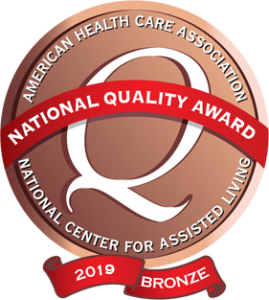 AHCA Quality Bronze Award Program
NATIONAL QUALITY BRONZE AWARD
Implemented by AHCA/NCAL in 1996, the National Quality Award Program is centered on the core values and criteria of the Baldrige Performance Excellence Program. The program assists providers of long term and post-acute care services in achieving their performance excellence goals.
2019 Award Winner
2011 Award Winner
Five-Star Quality Rating System
The Five-Star Quality Rating System was created to help consumers, their families, and caregivers compare nursing homes more easily. Nursing home ratings are taken from the following three sources of data: health inspections, staffing and quality measures. The CMS provides a star rating for each of these three sources and then the three ratings are combined to calculate an overall rating.